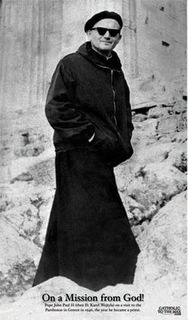 The Tacoma News Tribune asked readers to share their thoughts on JPII's passing.
My unamended comments from the Sunday paper are in italics...
As a 27 year old Catholic, he's been the rock in which ties my faith to Christ. In 2003, I camped out at an all-night vigil at World Youth Day in Toronto, with over half a million other young Catholics from around the world, in preparation for the Papal Mass the next morning. The vigil and Mass were among the most amazing of my life, as he called us to be the light of the world, and salt of the earth. JPII had a special place in his heart for young Catholics,
and he challenged us to live in the world, but not to be of it. We were blessed to be served by him as leader of our Church. As he passes from this earth, heaven has received an amazing and loving saint.